Skiing in Furano...Japan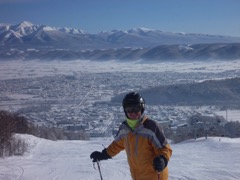 2 weeks skiing in Furano, Central Hokkaido, Japan...
SEE PHOTOS HERE
After arriving at 6:30pm on the bus from Niseko, via Chitose Airport we walked across the road from the bus stop and asked at the Hotel about where our Pension was. The very helpful receptionist gave us a map and pointed up the road. It was just two doors up and directly opposite the ski slope. We settled into a large comfortable half Japanese half western room and then headed out for dinner. We chose the Barbecue Restaurant where we had lamb and veggies which we barbecued ourselves to our own table.
Next morning (Sunday 5th Jan) we woke to a still sunny, blue sky day. We dressed lighter than usual and yeaded across the road and bought a full day ticket (4,900 Yen, about AU$52) and enjoyed a few groomed runs and glorious views. By 11 am the weather had changed and it had become very cold and foggy. We were tempted to ski back to our pension for warmer clothes but then discovered an awesome section of trees and powder which was not roped off with "KEEP OUT" signs. About 2 hours later after many fantastic runs we went to the nearby restaurant for lunch, soup, curry and rice for about AU$11. There we spoke to our first english speakers and got the idea that the "Keep Out" signs are not really pollced and are more of a warning than a rule. Consequently after lunch we enjoyed even more light powder skiing before most of the lifts closed at 3:20pm. Just after 4 we were back to our pension and an onsen before walking down the road about 200metres to where an old canoeing friend, John Morrell ran a ski touring business. We chatted to him for an hour or two about old times and what we might do while we were here.
Furano does not get as much snow as Niseko but what it does get seems to be lighter and dryer. The resort does not have nearly as much off-piste opportunities and virtually all of those are roped off with "keep out" signs. Also the ski area is considerably smaller than Niseko with less than 600m of vertical (640 to 1209m).
Monday it was quite cold and great fun at Furano
Tuesday we caught the bus (5000 yen or AU$53) to Kamui, a bit over an hours drive North of Furano. The lift ticket was only 3000 yen (AU$32) It is a quiet resort with a maximum elevation of 750m (base is 150 so still 600m of vertical). The great thing was the relaxed attitude to skiing out of bounds and the lack of people meant there were very few tracks, mostly ours. We had another wonderful day. We cut off under a rope just to the left after getting out of the Gondola and there was some lovely glades before a long well marked traverse to a double chair where you could then circulate onto the trees and back to the lift.
Wednesday we caught the bus again, this time to Tomamu, just over an hour South East of Furano. It has maybe 650m of descent from about 1200 to 540m which is accessed by Gondola. There is a single chair that takes you closer to the 1239m peak but it was not running until later in January. Tomamu is famous in Japan for having the tallest skysrapers North of Tokyo. It gets less snow than Furano being further east but it is also colder and so the snow is dryer. Usually it is not recommended until February. Anyway John Morrell had given us some advice about where we might find some off-piste runs and sure enough although there was a little bamboo still showing it was fresh untracked powder and we had it all to ourselves, so much so that we rested on the Gondola and didn't bother with lunch. It was sensational.
Thursday, Friday and Saturday were spent enjoying gradually more and more snow at Furano. On Friday even the groomed areas had over 10 cm of cover and it just kept snowing.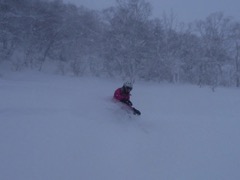 Sunday we had our deepest powder ever when we headed out skiers right from the top of the top chair and traversed around a knoll into an unbelievably long, steep DEEP snowy area that was deep enough to make breathing difficult at times. We did two circuits each taking about an hour from the top back to the Furano cable car at the bottom, via a creek and a small weir. AMAZING snow!
Monday we did more loops out of bounds on the "Dam run" which was unbelievably good.
Tuesday we had hoped to go to Asahidake but John had to postpone that and we were too late to get the bus to Kamui. In the end as it didn't snow overnight and looked very fogged in we decided to take a day off.
Wednesday we travelled north to Asahidake. There we probably only 30 or so skiers there and it just has one cable car. John Morrell guided us for the day and the snow was amazingly light and dry.
Thursday morning Chis Smart who was working for John took us out for some skinning. We hiked up from the New Prince carpark up past the dam and across the creek to do a very pleasant run back down. There was just four of us. Chris, Bin (Belinda a client of John's from Melbourne), Annette and I. It was a great introduction to AT skiing and using skins to "earn your turns.
Friday was a clear blue sky perfect day and John had two other clients who wanted to go to the Tokachi Mountains so we were able to join them. Bin's husband Noel also came making six in all including John as our guide. We did 3 hikes in near perfect weather although our last run had to be abandoned. It was an unforgettable day and the
photo
tell the story.
SKI TRIP COSTS
The total trip cost (not counting Korean stopover) cost about AU$9,900
The break down of those costs for 2 people is:
Airfare: $3,852 (2 tickets flying via Seoul to Chitose)
Accommodation: $2,306 (1 night @ airport $126, 7 nights at Niseko Lodge @ $140/night, 14 nights @ Furano $87/night)**
Lift tickets: $1,554 (18 days, some days only 4 or 5 hour tickets, about $50 per day per person for full day ticket)
Food: $1,200 (we ate in some times. evening meal ranged from $10 to $25 max each. average under $30 each on food)
Guiding: $437 (we paid for 2 days of guiding)
bus fares: $350 (between resorts and from Furano to other resorts)
ski hire: $190 (this was for 2-3 days with backcountry gear)
All this works out at a bit under $200 each per day excluding food or $225 with food
** not in Niseko (Ra Ra Niseko Lodge) we had breakfast included plus free use of a kitchen. In Furano (Young House) breakfast was $7.50 each extra and we made our own but there was only a microwave, jug and fridge so not ideal.