Musandam, Oman: Spectacular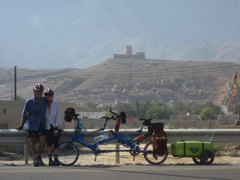 Great scenery on the way to Oman and in Musandam, Oman
HERE ARE THE PHOTOS


On 21st we Camped a few k short of Oman border and started early next morning to ride over mountain to Khasab. We left the beach at 6am. to take advantage of the morning cool and shade provided by the mountains. We had a big hill climb that required at least 3 rest stops.
The scenery was great.
On 23rd we went out to Musandam Fjords for 2 dives. Scenery from the boat was spectacular, similar landscape to Turkey coast . Dives only so so as visibility was poor due to wind. Food here however is excellent, so we are eating up big.