New Zealand Week One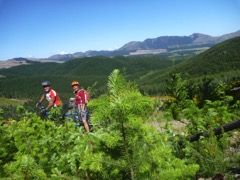 Our first week of nearly 6 in NZ's South Island
Our Journey began on Monday afternoon 9th November at Albion Park Station. With 4 bags each weighing about 23kg plus a bit of carry on, we had a big load. This included the two large suitcases for the tandem and my paragliding wing plus camping gear.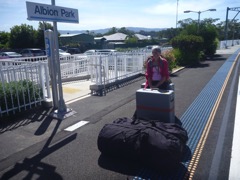 On the Tuesday we put our bike together at the hotel we had pre-booked. We then rode into Christchurch and looked around at the devastation from the earthquake of 2011, still very present. We arranged a phone and internet access and then rang the guy we hoped to buy a van from, that we had seen on "trade-me" (the NZ equivalent to eBay or Gumtree).
He had not sold it so we rode around and although it looked pretty daggy we paid the asking price of NZ$3,600 (about AU$3,300). It was an ex-painters van and looked pretty rough but would suit us perfectly. It was a Ford Econovan Maxi 2002 with a diesel engine and about 330,000km on the clock. The Maxi was the Long Wheel Base so we could easily fit our tandem in lying on the bed. Yes it had a bed and camping gear. Delighted we went to the camping area on the outskirts of Christchurch.
Day 2 we organised the rego transfer and RUC (road user charge for diesel cars) and went to Salvos Op shop to buy extra sheets and some more cooking utensils. We then drove out to Port Hills hoping to ride but it started raining so we headed over to Lyttelton and then on towards Little River.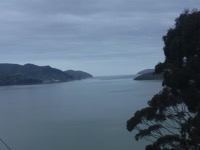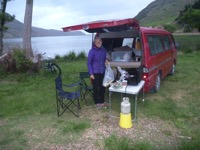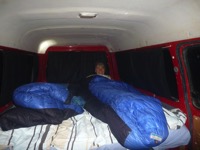 A view looking back to Lyttelton. Our first night wild camping in the wind and inside our comfy van.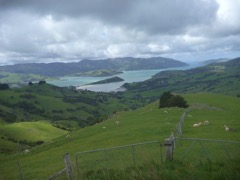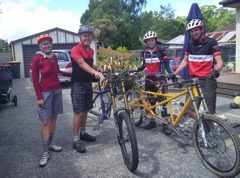 A view at Banks Peninsula of Akaroa harbour. Heading out riding in Port Hills with Rose and Jackson.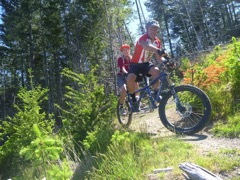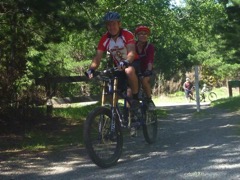 Riding at Hanmer Springs on Friday afternoon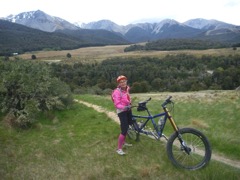 Riding on Saturday at Craigieburn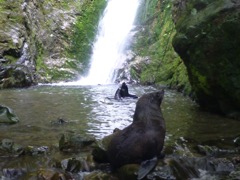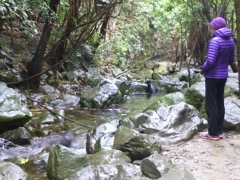 A stop on the roadside in Half Moon Bay at Ohau Creek to see a amazing seal colony.