Vientiane, Laos
26/08/14 19:21 Filed in:
Laos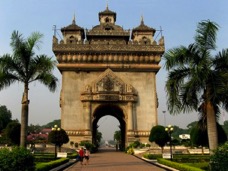 Arrived in Vientiane very early 25th and left the next evening.
Vientiane is supposedly an 18 hour bus trip from Kunming (see
here
) arriving about 8am but Sara arrived before 6am and was feeling quite sick, possibly something she had eaten.

It is 1421km by bus from Kunming in China

Sara caught a bus across the Mekong River into Thailand to Nong Khai (about 26 km from Vientiane) and then the train about 6pm to Bangkok which was about a 12 hour trip. It is about 630km from Nong Khai to Bangkok by road.