removed seized stoker seat post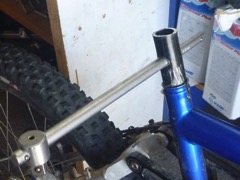 Trying to extract Annette's seat post.
This was again a VERY LUCKY turn of events.
After sawing off Annette's seat post (there was no turning back now) I had drilled a 12+mm hole in the post to try to twist it out.
That did not work.
I took it to Alex at Outside Sport and he tried some extension pipes.
That did not work.
He recommended Wanaka Stainless who could not help but recommended Aspire Engineering around the corner.
They did help.
The owner and a MTBer named Rob thought about the problem and decided a slide hammer was the best approach.
It moved the post a few mm before breaking the weld on the end of the slide.
Finally rewarding the stop on the slide and turning the bike upside down and slowly it came out.
Great NEWS!!