Serviced Fox 40 Forks
24/03/16 20:00 Filed in:
forks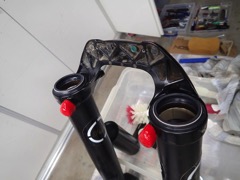 Serviced Fox Forks. new oil & seals.
I had bought oil and seal kit and installation tools from CYCLINIC in Brisbane.
It ended up being a fairly easy job when I got into it.
Supposedly needs doing every 50 hours but I had done about 90 hours and 918km
installed New Forks: 13/10/2015: ~12,542km 0 km 0 hours
serviced Fox 40 fork: 12/3/2016: ~13,460km 918 km 90.18 hours
Removing the stanchions, Replace wiper seals, Reinstall stanchion. Add new oil.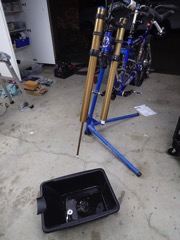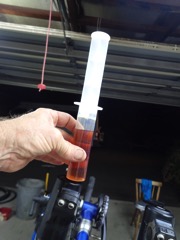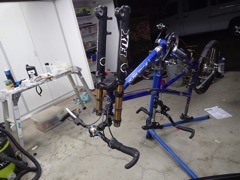 Header
Thank you for your order
End Header
Body
Content
Your order has been received and is now being processed. Your order details are shown below for your reference:
Order: 6437
Product
Quantity
Price
Fox Racing Shox Suspension Oil 20wt Gold 1L (#FX02503010)
1
AUD $34.95
Fox Racing Shox Fork Damper Removal Tool (#FX39800681)
fox damper tool: 32, 34, 36 and 40mm AIR Spring Side (32mm Damper also)
1
AUD $56.95
Fox Racing Shox Fork Damper Removal Tool (#FX39800682)
fox damper tool: 34, 36 and 40mm DAMPER Side only
1
AUD $56.95
Fox Racing Fork Low Friction Dust Wiper Kit 40mm - No Flange (#FX80300946)
1
AUD $69.95
Fox Racing Shox Seal Driver Tool (#FX39800513)
fox driver tool: 40mm
1
AUD $42.95
Note:
I tried to pay with AMEX and my order failed. please do no