Stoker gets dropper Post.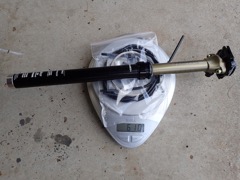 Annette wanted a new dropper post at 14,041 km.
It was not as good a price as mine but the 27.2 diameter are hard to get and often more expensive. This one was $615 from Mountain Bikes Direct.
Old Dropper Post weighed 568 gm
New Post weighed 610 gm less 25gm of cable and packaging removed so 585gm
Seat was 260gm
Installed it raising Annette's seat about 10mm
HERE
is the STOKER cockpit setup
also
HERE
is the Captain's cockpit setup.