Replaced Brake Pads Front & Rear
25/03/16 22:14 Filed in:
brakes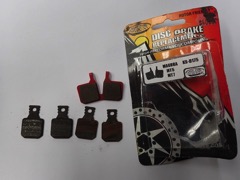 Replaced Front & Rear Brake Pads
This was the first time I had changed the pads on the Magura MT7 front brakes which were installed 23/10/2016 at about 12542km

install MT7 Brakes: 13/10/2015: ~12,542km 0 km 0 hours
New Brake Pads: 12/3/2016: ~13,460km 918 km 90.18 hours

This was TOO long as the pads were worn down to the metal.

I had bought some "butterfly" style pads in Christchurch at the beginning of our NZ trip which do not require a pin and just looked over the calliper. A much simpler pad to change.

Also replaced the rear pads which had probably the same amount of use but not as badly worn.