Replaced Tyre on Rear wheel @13,460
24/03/16 18:59 Filed in:
tyres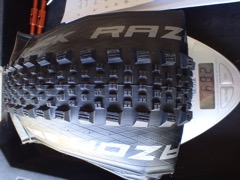 New Rock Razor rear Tyre at 13,460 km
Had installed Rock Razor tyre on rear before going to New Zealand and although the side wall got damaged I was pretty happy with it so bought another for AU$79.99 from Chain Reaction.
Actually I bought 2 and a new front Hans Humph.
You can see they estimate the weight as circa 665 gm and mine weighed 682.
The rear wheel bare was 2700gm
With the tyre and 35mm valve it was ca. 3400
I added about 110gm of sealant so all up: 3515gm
plus skewer (axle) 58gm 3575gm
This compared to the tyre I had used in Tassie which was a heavy downhill tyre (Specialised "Chunder") with tube
All up it weighed: 4135gm.
This tyre on my 34mm inside width rims measured 62.5 to 63.0 mm across (average 62.75)
The diameter was 680mm