Replaced Sleeve on Rear Shock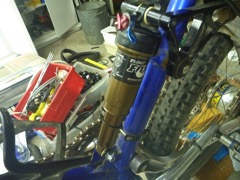 Replaced the bush and spacers on bottom of rear shock.
When in New Zealand (see entry on 4th December 2015) The bottom bolt on the rear shock had sheared damaging the bushes. The shop had installed an older model bush to get us out of trouble.
I was able to order a replacement from CYCLINIC in Queensland when getting the front shock service kit.
The closest internal width available was 22.2mm (0.874 inches) for a 6mm bolt.
The picture on the right shows the car bolt I happened to have which was the ideal drift to remove the temporary bush installed in NZ.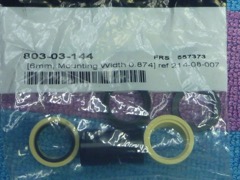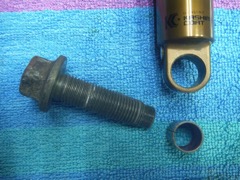 Even though it had only been in since 4th December the bottom bolt was already bent see left photo below.
I need to get a bolt with no thread for the first 30 to 33mm. It probably will need to be a much longer bolt which I will saw off.
see photo right which show minimum unthreaded length.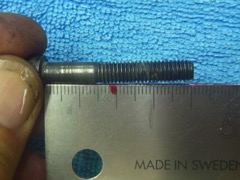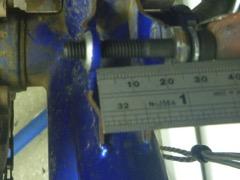 It would also be good to get a spare top shock bolt 70mm long and unthreaded for 50mm.