Swing-arm Broke Again (14,102)
17/07/16 01:50 Filed in:
frame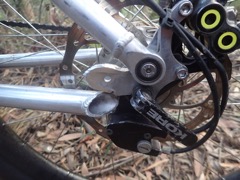 Swingarm suddenly broke again
Here is the email I sent to Ventana
Hi Teresa,
We broke another swing-arm on the weekend!

Please let me know how you can help.

This is especially frustrating for a number of reasons:
1. We were on an easy family mountain biking weekend and it broke on Saturday leaving us no bike to ride on Sunday
2. It seems to have broken right through the weld which I thought should be the strongest point. There seems to be no "penetration" in the weld.
3. It was supposed to be a stronger new swing-arm which we waited a few months to be made and it weighed more than the previous 3 (see table below)
4. It doesn't have the gusset of the previous swing arm which I believe would have made a thicker stronger weld.
5. It has lasted less time than any of our previous swing-arms and we have not ridden hard at all.
It lasted only 628km or 47 hours of riding
(from Strava)
6. We are wanting to ride quite a bit over the next 2 months in preparation for a four week riding trip to New Zealand in September to do the Heaphy Track among other big rides.
7. We have upgraded our suspension, rims and seat posts to make this a real "All Mountain" bike rather than a XC style tandem and the swing arm is really letting down this great bike.
8. It was quite expensive to replace the last swing-arm
9. We have not heard anything about the steel swing-arm we ordered in January.
10. We are left wondering how we can get a reliable bike!

Looking forward to hearing from you
regards,

Gary



Here is our swing-arm record
Where broke, date replaced odometer and weight of swing arm.


1st broke Rotorua + Highland Fling: 29/11/2013 11,015km 630gm
2nd broke doing the Wollemi: 25/11/2014 12,283km 665gm
3rd broke in Tassie at Derby: 23/3/2016 13,440km 696gm cost US$331 or AU$463 4th is the one installed now:
4th broke at Fitzroy Falls: 14,010 km