Cracked Spider on Captains Crank
21/11/15 21:35 Filed in:
cranks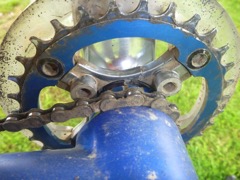 Noticed the spider and chain ring were loose on Saturday morning at Kaiteriteri and tightened the ring nut by hitting the screwdriver on the Leatherman. On Sunday it seemed okay but I was concerned about it and took it to the bike shop in Nelson on Monday. They ordered a replacement crank for $230 but when it came in on the Tuesday it was not the right one. Kelvin, the shop owner had thought a 2 ring one would work but I needed a three ring so I could mount the "bash guard" on.
Anyway I decided it was not likely to break catastrophically so left without repairing it.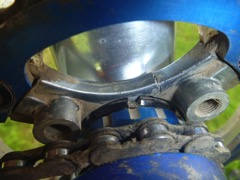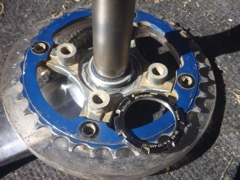 The cracked spider: And the crank removed and the locking nut and wavy locating system.
The Cranks I have are FSA hollow tech.