Brakes shimmed
02/12/12 04:27 Filed in:
brakes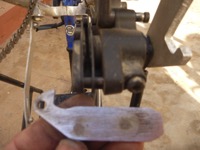 The replacement pads were well worn so I added a shim to help
The problem was probably a combination of air in the line and the replacement (old) pads being too worn. But bleeding he brakes was out of the question and a full days use had barely improved the situation, you could still easily pull the lever all the way to the handlebar. I ground the pad material off one of the removed pads by rubbing it on the cement. The backing plate then went in between the cylinders and the replacement pad. This improved the situation considerably. It should last the rest of the trip as heavy braking should not be needed while touring and the front brakes were working well.