Rohloff Hub Seals replaced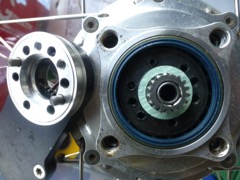 Only replaced the seal on the Left side
After trying repeatedly to remove the chain ring on the right side I finally gave up, but not before I had burred and chipped the hub where the 4 slotted removal tool inserts.
I am pretty sure it was only leaking on the disc brake side so I replaced that seal and left removing the drive sprocket for another day, or someone else.


I also refilled the hub with oil which appeared to be completely empty.